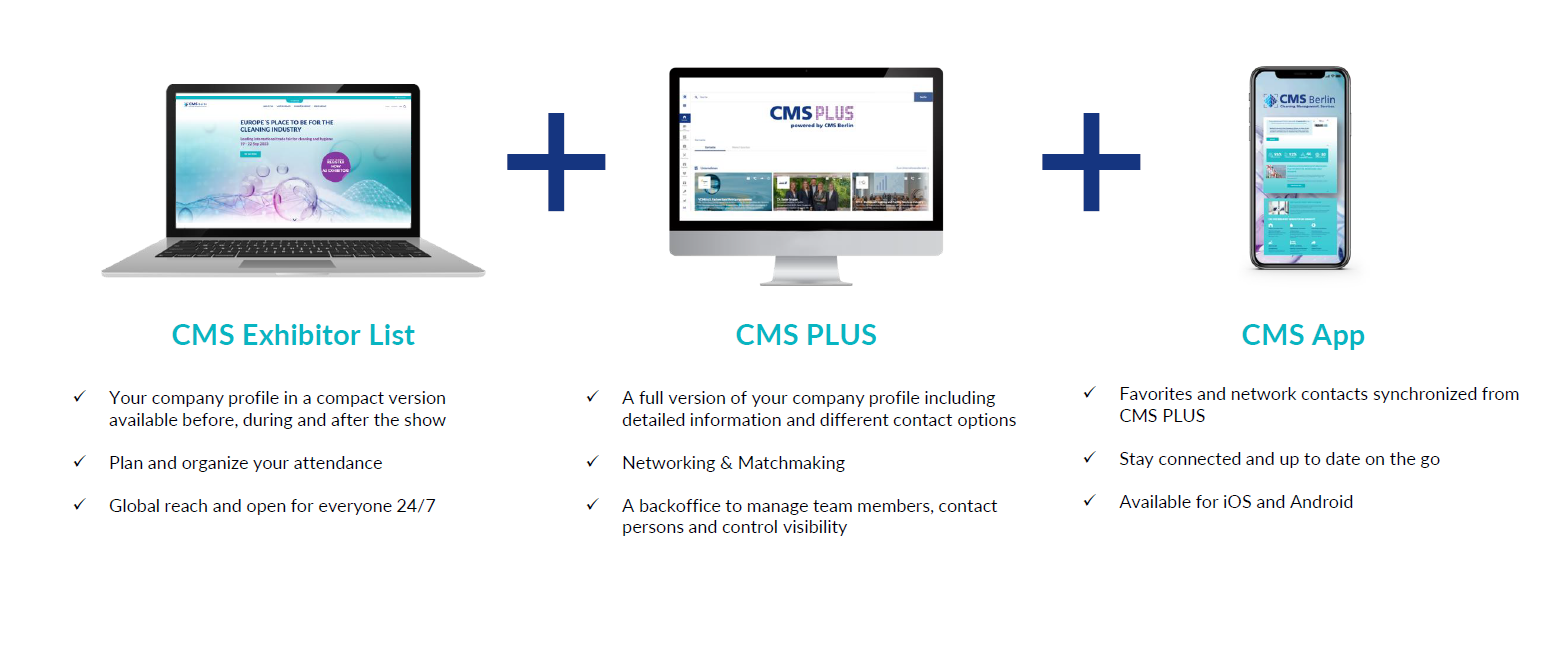 What is the CMS Plus, the CMS Berlin Online Catalog?
The CMS Plus digital event platform is the place where products and services are presented with newly developed formats. CMS Plus offers new and creative formats for the business of today and beyond. This is the focal point and the media hub for specific industry topics and solutions. It also offers all the advantages of a conventional trade show.
In addition to organizing meetings and networking with key decision-makers, you can find out about the latest trends and achieve a digital presence that has never been there before.
The new digital channel is used to present current trends and product innovations.
How do I register for the CMS Plus?
The CMS Plus online platform is part of the CMS Plus in Berlin and only accessible for exhibitors with a booth. After confirmation of your participation you should receive a link to edit your company profile. This platform is a place where the CMS community meet to showcase their creative diversity online.
Media-Package, what is it and what is included?
The Media Package is included with your booth registration. It includes some important marketing tools to optimize and promote your participation. You can find more detailed information on your Media Package here.
If you wish to book an upgrade, you can visit the advertising store or contact the online support team.
How do I maintain the company profile?
Your company profile is a digital touchpoint between exhibitors and trade visitors. The company profile is displayed on the official CMS Platform under Exhibitors.
To edit your exhibitor entry, the main contact receives access to the Content Manager after confirmed registration. The main contact is already automatically linked to the company profile and has access to the backoffice.
The main contact specified during booth registration will receive the following:
An E-Mail with the link to the Platform CMS Plus.

An access to the Content Manager in the exhibitor area of the Platform CMS Plus.
The data can be edited and updated at any time. If you have not received an e-mail with the link, please contact our support: support@messe-berlin.de